This article originally appeared in HIV & AIDS treatment in practice, an email newsletter for healthcare workers and community-based organisations in resource-limited settings published by NAM between 2003 and 2014.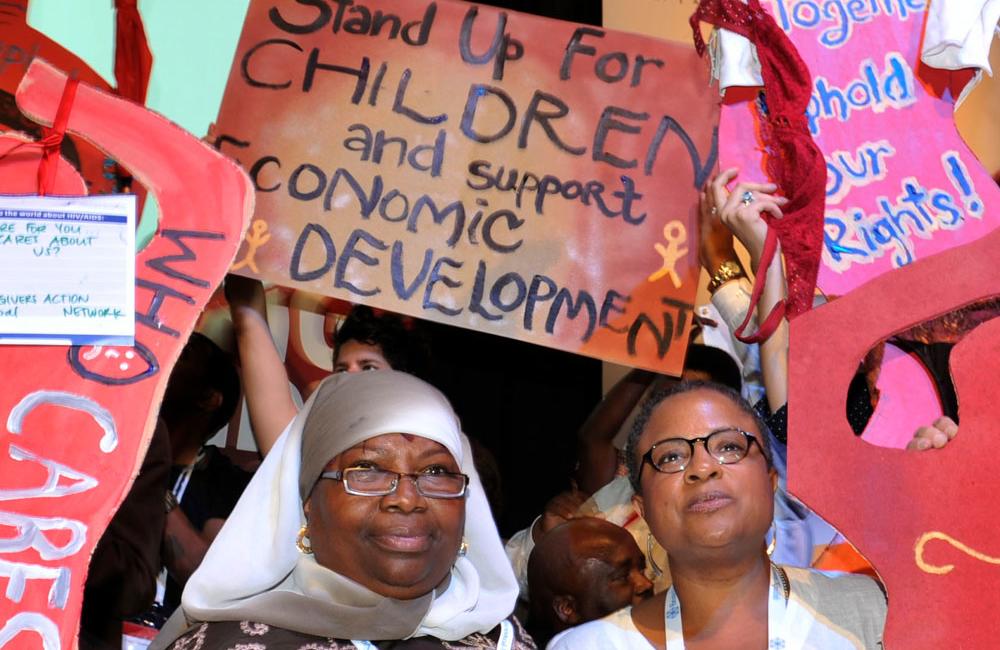 HATIP's coverage of maternal and child health issues at the Eighteenth International AIDS Conference was kindly supported by UNICEF.
Half of HIV-exposed children in Africa not receiving drug to prevent infection
By Keith Alcorn
A four-country African study of mothers with HIV giving birth in 2007 and 2008 has shown that up to half of children exposed to HIV during pregnancy and childbirth did not receive nevirapine to prevent HIV infection at the time of delivery.
Younger mothers and those who made fewer visits to the health facility before giving birth were significantly less likely to have taken a dose of nevirapine, and their infants were less likely to have received a dose of nevirapine after birth, according to results of a study published on 18 July in the Journal of the American Medical Association to coincide with the opening day of the Eighteenth International AIDS Conference in Vienna.
Calls for a greater effort to employ proven interventions in the prevention of mother-to-child transmission are prominent at this year's International AIDS Conference.
"The virtual elimination of mother-to-child transmission by 2015 is sacrosanct," said Michel Sidibé, Executive Director of UNAIDS, in his plenary address to the conference.
Speaking at the Children First conference preceding the AIDS conference, UNICEF's HIV & AIDS chief said: "In 2010 the stars are aligned for the elimination of vertical transmission. We can see the pathway to make this happen by 2015. The question is, how do we get systems to work together, how do we get programmes to talk to each other?"
Experts believe that vertical transmission – transmission of HIV from mother to child during pregnancy, delivery or breastfeeding – could be virtually eliminated by 2015 if national programmes are able to implement a number of key measures:
Adopting new WHO guidelines for prevention of mother-to-child transmission to ensure that the most effective regimens are being used, and moving towards earlier antiretroviral treatment for all women who are medically eligible. 
Promoting integration of HIV services, maternal-child health services and family planning in order to reduce the number of unintended pregnancies.
Prevention of HIV infection of women.
Comprehensive care for families, particularly through integration of HIV into maternal-child health services.
However the research presented today, carried out by Jeffrey and Elizabeth Stringer of the Centre for Infectious Disease Research in Zambia and colleagues in Cameroon, Ivory Coast and South Africa, shows that there is still a long way to go to achieve high levels of coverage of the key interventions.
The researchers tested umbilical cord blood samples at delivery in 27,893 randomly-selected mother-infant pairs, of which 12% were HIV-positive. Out of 3196 deliveries by HIV-positive mothers, mothers took nevirapine in 1845 cases, and both mothers and infants were dosed with nevirapine in 1725 cases.
The virtual elimination of mother-to-child transmission by 2015 is sacrosanct, Michel Sidibé, Executive Director of UNAIDS
The average coverage was 51%, and there were large variations between countries and within countries, but multivariable analysis found that location was not significantly associated with failed coverage of nevirapine.
Women under 30 were less likely to be covered by nevirapine prophylaxis, as were those who attended fewer than six antenatal clinic visits during pregnancy.
The authors say that these findings have immediate implications for counselling of young mothers, and underline the importance of repeat antenatal visits.
However they say that the underlying problem is a series of failures in the cascade of actions that are necessary for a mother to take a dose of nevirapine – or other antiretrovirals – to prevent vertical transmission.
This cascade of actions – all of them critical – consists of:
Documentation that the mother has presented to the health facility, and the opening of a health record which documents all of the subsequent critical steps in this pathway;
Offer of maternal HIV testing;
Acceptance of testing;
Giving the HIV test result to the mother and recording by the health facility;
Dispensing of maternal nevirapine or other antiretroviral regimen;
Taking nevirapine (or other antiretroviral drugs) as instructed;
Infant given nevirapine prior to discharge from hospital or within 72 hours of birth at home. The infant dose is necessary to maximise the protective effect of nevirapine prophylaxis.
A failure at any point in this pathway after documentation means that prophylaxis cannot prevent infant HIV infection.
The international comparison found large variations in performance at each stage of the cascade, suggesting that one of the most critical issues in ensuring virtual elimination of vertical transmission will be quality improvements in care at each stage at every health facility.
"Even the most potent interventions will not protect those infants who do not receive them," the research group conclude.
But the inherent complexity of this pathway, with so many steps in comparison with initiating antiretroviral therapy for the mother, may be another strong argument for promotion the widest possible adoption of new WHO guidelines recommending treatment for mothers with CD4 counts below 350 cells/mm3.
A recently-published modelling exercise using data from a Zambian cohort estimated that 80 to 90% of vertical transmissions could be prevented if women with CD4 counts below 350 cells/mm3 received three-drug antiretroviral therapy.
Reference
Stringer EM et al. Coverage of nevirapine-based services to prevent mother-to-child HIV transmission in 4 African countries. JAMA 304 (3): 293-302, 2010.
Malawi plans 'test and treat' approach for pregnant women to cut mother-to-child HIV transmission
By Keith Alcorn
Malawi's Ministry of Health is planning to provide triple-drug antiretroviral therapy (ART) to all pregnant women with HIV as the most practical way for the country's impoverished health system to quickly reduce transmission of HIV from mother to child – and protect mother's lives at the same time – the Eighteenth International AIDS Conference heard yesterday.
New guidance from the World Health Organization (WHO) recommends that women diagnosed with HIV during pregnancy and with CD4 counts below 350 cells/mm3 should start lifelong antiretroviral therapy immediately.
For women with CD4 counts above 350, WHO recommends two options:
Option A: AZT prophylaxis for the mother during pregnancy; single-dose nevirapine for mother and infant around delivery; AZT/3TC for the mother during delivery and for seven days afterwards; daily nevirapine for the infant until one week after breastfeeding ceases.
Option B: Three-drug antiretroviral therapy from week 14 of pregnancy until the end of the breastfeeding period.
At a satellite meeting organised by the Elizabeth Glaser Pediatric AIDS Foundation, representatives of country programmes talked about the dilemmas they have faced in deciding how to adapt the guidelines to their national contexts.
In Zimbabwe, for example, the national AIDS programme has decided to provide nevirapine-based ART regimens to mothers with CD4 counts below 350, and has chosen option A as the more affordable route to reducing mother-to-child HIV transmission.
But the AIDS programme recognises that a lot of work will be needed to get everyone up to speed on the new guidance, and has been conducting extensive stakeholder consultations to make sure that everyone is happy with the new direction.
At the moment, almost 85% of sites providing PMTCT services in Zimbabwe are still employing single-dose nevirapine, and there is very limited capacity for ART initiation because antiretroviral therapy must be prescribed by doctors. The country also has only limited laboratory capacity to carry out CD4 cell monitoring, with few machines, unreliable supplies and a failure to communicate results.
But as well as HIV-specific problems, the AIDS programme also has to contend with some more fundamental weaknesses of the health system. There is high turnover of health care staff, which means a constant need for retraining to ensure that all staff understand the correct procedures for offering HIV tests, counselling and recording information, and administering drugs. Record-keeping remains a weakness, and there are problems in referral and follow-up of mothers with HIV and their infants.
Last, but not least, the recent introduction of user fees for the use of health facilities is likely to deter women from attending antenatal clinics.
In Kenya, the government is also planning to introduce Option A for mothers in less immediate need of ART for their own health, but similarly faces limited healthcare worker capacity and a shortage of CD4 counting machines.
In Malawi, said Dr Erik Schouten of the country's Ministry of Health, stakeholders had looked at the WHO guidance and tried to assess which option would be most realistic for the country's health system to implement.
"The success of antiretroviral therapy in Malawi was based on a public health approach that acknowledges the realities of the health system's capacity," said Dr Schouten. That means limited use of CD4 counts, task-shifting to allow nurses to initiate and monitor ART, and devolution of care down to the local health centre.
Whilst incorporating treatment for all pregnant women below 350 presents no problem apart from cost, option A  for women with CD4 counts above 350 would prove challenging, he noted. It's too complicated for health care workers to administer, requiring four separate stages of treatment for the mother, plus infant prophylaxis throughout breastfeeding. On average women in Malawi breastfeed for 23 months, according to Dr Schouten.
The CD4 count requirement is also a major challenge for the country where only 20% of people living with HIV presently have access to immunological monitoring. The country has about 50 CD4 counting machines, but their maintenance has proven so difficult that many of the machines haven't produced results in months. Dr Schouten said that this is even the case in some of the larger cities in the country. Providing access to CD4 cell monitoring at antenatal clinics in the periphery would be even more challenging. Even if blood specimens were drawn, packaged and transported to a working laboratory, pregnant women would have to come back within a week or two for the results.  There is a chance that a significant proportion would not, and would fall through the cracks.
Dr Schouten said that these clinics generally only have one clinical officer and two nurses managing about 150 to 200 patients a day. Even if point-of-care CD4 cell tests were to become available, they would still take time to administer and read, straining clinics already operating past capacity. But the technology is not available to fill this gap at the moment, said Dr Schouten, and it's unlikely to be developed for several years. 
So Malawi has decided to start all pregnant women with HIV on ART and to keep them on treatment for life. They call this 'Option B-Plus', and says Dr Schouten, it could offer several advantages:
It protects the mother from the beginning of her next pregnancy as well.
It could reduce maternal postpartum mortality and AIDS mortality (a retrospective review of the DREAM cohort – which included women with CD4 cells above 350  – presented at IAS last year found significantly lower maternal mortality among women more extensively treated with ART.
It will reduce the risk of TB.
It prevents maternal exposure to single-dose nevirapine, thus preventing resistance and preserving the mother's treatment options.
As Professor Anthony Harries pointed out, Option B-Plus will depend on getting money from the Global Fund, but, said Dr Schouten, it's the only realistic option for Malawi.
It's clear that, as countries gear up to submit proposals for expansion of PMTCT programmes to the Global Found round 10 in late August, slightly different decisions are being reached in each country about how far to go in implementing WHO recommendations.
However, Malawi is the only country that appears to be pushing the envelope, and Professor Harries says that the Malawian approach will offer a major opportunity to assess the feasibility and acceptability of a staged introduction of 'universal test and treat', with pregnant women as the first group.
Modelling identifies most cost-effective PMTCT protocol for developing countries
Mathematical modelling of the anticipated impact of the option A and B regimens discussed above has provided insight into their potential cost-effectiveness.
The mathematical modeling exercise, presented by Andrew Auld of the US Centers for Disease Control Global AIDS Program, found that while options A and B had similar PMTCT benefits, the first option was more cost-effective.
The model utilised data from twelve African countries and from Guyana, Haiti and Vietnam. It took into account HIV infection risk throughout pregnancy and breastfeeding, and both options included lifelong triple-drug treatment for all mothers with CD4 counts below 350 cells/mm3.
The two currently recommended PMTCT options appear to deliver considerably better outcomes than did the earlier WHO PMTCT protocol, albeit at higher costs.
Under the previous WHO guidelines, issued in 1996, an estimated 66,000 HIV infections per year would be averted with the recommended prophylaxis. The number of infections averted increases to 169,000 (95% CI, 116,000 to 187,000) with option A and 152,000 (95% CI 94,000 to 165,000) with option B.
Life-years gained in the three scenarios, with 3% annual discounting, were 1.3 million, 3.2 million and 2.9 million, respectively.
Total costs came to US$64 million, US$235 million and US$343 million respectively, with costs varying in the third scenario in accordance with the antiretrovirals used.
The incremental cost-effectiveness ratio (ICER) for the more cost-effective of the two recommended regimens was US$92 per life-year gained, placing it well within the cost-effectiveness range for low-income countries.
Reference
Auld AF et al. Potential impact and cost-effectiveness of the 2009 "rapid advice" PMTCT guidelines – 15 resource-limited countries, 2010. Eighteenth International AIDS Conference, Vienna, abstract WEAE0205, 2010.
Further information
Andrew Auld's presentation and the related abstract are available on the official conference website.
Dr Erik Schouten's presentation is available on the Elizabeth Glaser Pediatric AIDS Foundation website (PDF).
Child mortality falls after mothers receive HIV drugs
By Keith Alcorn
Children born to mothers with HIV in a rural district of KwaZulu Natal were 75% less likely to die before the age of five if their mothers received antiretroviral therapy, researchers from the Africa Centre reported on Monday July 20th at the Eighteenth International AIDS Conference in Vienna.
The impact of HIV spending on other major health problems, particularly the Millenium Development Goals on child (MDG 4) and maternal mortality (MDG 5), has been limited to date, despite the compelling evidence of the impact of HIV on child and maternal mortality, particularly in southern Africa (see International AIDS Society position paper, Making Motherhood and Childhood Safer).
The study presented on Monday, carried out by the Africa Centre in KwaZulu Natal, extends research presented last year at the Fifth International AIDS Society conference in Cape Town and conducted by the same research group in the same district, which showed that antiretroviral therapy for mothers reduced mortality in children under two years of age.
The researchers used a well-established district population HIV surveillance study as the basis for an evaluation of the effect of maternal antiretroviral treatment on child mortality in under-fives.
The study evaluated the change in child mortality after the introduction of antiretroviral therapy in 2004. The researchers identified 300 live births in mothers with HIV between 2000 and 2006, and matched these women to mothers with HIV and mothers without HIV by age. They also assessed survival rates of the infants born to women with unknown and negative status. All women and the infants born to them during the period of interest were followed until the age of five.
Three hundred of 12,052 women who gave birth between 2000 and the end of 2006 initiated ART within five years after delivery.
The incidence of death by five years of age in children of untreated mothers was 9%, compared to 5.7% in children of mothers who received antiretroviral therapy, and – after adjustment for other risk factors – antiretroviral therapy was found to reduce the risk of child death by 75%.
Other studies on the impact of HIV spending on wider health system outcomes were less clear-cut in their findings.
Research in Rwanda, comparing 26 pairs of health centres, one providing HIV care and the other not, found that although centres providing HIV care showed a trend towards better outcomes with regard to a range of indicators including child immunisation, adult and child hospitalisation and curative visits to the health centre, the only indicator on which HIV clinics did significantly better was providing BCG vaccinations to all patients.
In Zambia, another study of health facilities found a significant relationship between the number of people receiving antiretrovirals and an increase in utilisation of family planning services by non-HIV patients (r=0.83, Spearman rank correlation test), between voluntary counselling and testing uptake and family planning service usage (r=0.30), and between uptake of PMTCT services and uptake of antenatal services (r=0.50).
However, researchers presenting study findings on the effects of HIV spending on other health system outcomes agreed that more research was needed, looking in particular at a wider range of settings and services, and taking into account the effects of other recent global health initiatives, notably GAVI, which has been supporting the purchase of vaccines for child immunisation.
References
Ndirangu J et al. Impact of maternal HIV treatment on under-five child mortality in rural, high HIV prevalence South Africa. 18th International AIDS Conference, abstract MOAE0104, Vienna, 2010.
Shepard DS et al. Is HIV strengthening the health system? A quasi-experimental study in Rwanda. 18th International AIDS Conference, abstract MOAE0102, Vienna, 2010.
Simbaya J et al. How HIV/AIDS scale-up has impacted on non-HIV priority services in Zambia. 18th International AIDS Conference, abstract MOAE0103, Vienna, 2010.
Further information
Presentations by the speakers and their related abstracts are available from the official conference website.
Success of treatment in children varies across low- and middle-income countries
By Carole Leach-Lemens
Although children are doing well on HIV treatment, survival is affected by a number of factors, including delaying the start of treatment, long-term retention in care and preventing treatment failure so as not to compromise future treatment options, according to research presented on July 19 at the Eighteenth International AIDS Conference in Vienna.
A multiregional analysis in Africa and Asia over a period of 18 months (within the paediatric International Epidemiological Databases to Evaluate AIDS (IeDEA) collaboration) of over 13,000 HIV-infected children of 15 years of age and under looked at the probability of, and reasons for, death and programme loss after starting antiretroviral treatment according to the 2006 World Health Organization (WHO) criteria.
These regional cohorts are part of the larger IeDEA collaboration, which includes cohorts in the United States, Australia and Latin America. This global collaboration is intended to address broad questions about HIV that cannot be answered at the single cohort level.
Data of 13,611 children from 54 clinics in Asia, East Africa, Southern Africa and West Africa were analysed. The 18-month crude probability of death after the start of antiretroviral therapy differed slightly according to the region, Asia 5.8% (4.7 to 7.2), East Africa  5.5% (4.6 to 6.5), Southern Africa 6.4% (5.8 to 7.1) and West Africa 8.9% (7.8 to 10.1) (95% CI, p<0.0001).
Factors that put children at increased risk for poor survival included advanced illness, low weight for age, being under 12 months of age, being severely anaemic and having a CD4 percentage under 10 or missing at baseline.
Six percent of children died and over 12% were lost to follow-up, with considerable variations across regions and sites, Valeriane Leroy reported. Loss to follow-up was defined as not having been seen for more than six months since the last visit. The median age for starting treatment was five, with a median CD4 percentage of 12.
The 18-month crude probability of loss to follow-up varied significantly by region, from 4.5% (3.5 to 5.8) in Asia, to 17% (15.6 to 18.6) in East Africa, 11.5% (10.6 to 12.5) in Southern Africa and 24.7% (23 to 26.4) in West Africa (95% CI, p<0.0001).
Factors associated with a greater loss to follow-up included being under three years of age, advanced illness, a missing CD4 percentage at baseline, low levels of haemoglobin (being anaemic), and having started treatment after 2005.
Other factors associated with the increased probability of loss to follow-up included being in a public rural site, having cohorts of more than 250, and that patients being asked to pay for laboratory tests, as well as being on a protease-inhibitor-containing (PI) regimen. Over 75% were on a regimen of two nucleoside reverse transcriptase inhibitors (NRTIs) and one non-nucleoside reverse transcriptase inhibitor (NNRTI), with 20% on a regimen of two NRTIs and one PI. Treatment regimen varied significantly by region in Asia and East Africa: close to 100% were on the NNRTI-containing regimen; while in both Southern and West Africa a third were on a PI-containing regimen.  
CD4 percentage greater than 20 at baseline improved outcomes, as did telephone calls to track the children. Dr. Leroy suggested that telephone calls were less stigmatising than home visits.  
These trends over time, coupled with the size of the cohorts, Valeriane Leroy stressed, signify the measurable overload health facilities are experiencing in resource-limited settings with scale-up. The provision of free treatment and laboratory services, she noted, are critical incentives to assure that patients return to care.
Treatment programmes for children are also having to address the need for second-line treatment, which may be different in some settings due to the limited number of drugs available to treat children, and the higher costs of some products used in second-line treatment.
Determining when to switch treatment in children may have a critical impact on their future prospects of successful treatment.
Elizabeth Reddy and colleagues, in another presentation that looked at a cohort of HIV-infected children in Tanzania, showed that depending only on clinical and immunological guidelines to determine treatment failure resulted in long periods of time with undiagnosed treatment failure. This had a negative impact on the effectiveness of future treatment.  
Viral load testing was done on a group of children in HIV care, who had been on non-nucleoside reverse transcriptase inhibitor-based (NNRTI) first-line treatment, for 180 days or more. First-line regimens included zidovudine/lamivudine (AZT/3TC) or stavudine/lamivudine (d4T/3TC) and nevirapine or efavirenz. The study was observational so the choice of regimen was the physician's.
Genotypic resistance testing was done on those samples with viral loads equal to or greater than 1000 copies/ml. The children were then followed for 12 months. Clinical staging, antiretroviral regimens, viral load levels and CD4 counts were recorded. Clinical or immunological treatment failure was defined according to WHO 2006 guidelines. Virologic failure was defined as HIV viral load decrease of less than 1 log10 after 70 days, or 400 copies/ml or more after 180 days on antiretroviral treatment.
At baseline, out of a total of 206 children, 33.4% (69) had virologic failure, six (9%) of whom had clinical or immunological failure. Of the 45 with genotype results, over 90% had resistance mutations, and all had NNRTI mutations.
Of the 57 children who had been followed for six months or more, 82.4% (47) had started a second-line treatment regimen: abacavir/didanosine and lopinavir/ritonovir (ABC/ddI+LPV/rtv).
Viral load levels were subsequently available for 31 of the children, who had a mean of 170 (70 to 280) days on second-line treatment. Of these, eight had virological failure and two had clinical or immunological failure.
Most of the children who experienced treatment failure on first-line NNRTI-based treatment as part of a public health approach, in spite of numerous resistance mutations, did well on a protease-inhibitor based second-line treatment regimen. However, the risks of virological failure was five times greater in those children (8, or 32%) who had a viral load equal to or greater than 100,000 copies/ml before starting second-line treatment.
Dr. Reddy concluded that larger numbers and longer follow-up were needed to determine the cost:benefit ratio of viral load monitoring of paediatric antiretroviral treatment in resource-limited settings.
Effective means to identify treatment failure early, as well as creative and workable approaches to keep children in antiretroviral treatment programmes, are needed to improve survival of HIV-infected children.
References
Leroy V et al.18 month mortality and loss-to-program in ART-treated children in Asia and Africa: the International Epidemiologic Databases to Evaluate AIDS (IeDEA) paediatric multiregional collaboration. Eighteenth International Conference on AIDS, abstract MOAB0202, Vienna, July 2010.
Reddy E et al. Virologic outcomes on second line antiretroviral therapy (ART) for HIV-infected Tanzanian children with and without clinical or immunologic failure at ART switch. Eighteenth International Conference on AIDS, abstract MOAB023, Vienna, July 2010.
Further information
Presentations and their related abstracts from Valeriane Leroy and Elizabeth Reddy are available on the official conference
Children doing just as well as adults on HIV treatment in southern Africa
By Carole Leach-Lemens
Treatment for children in southern Africa approaches success rates seen in adults, according to data from Baylor International Pediatric AIDS Initiative's (BIPAI) Network of Children's Centres of Excellence (COE) in Lesotho, Malawi and Swaziland.
These findings showed mortality rates were reduced by over 50%, decreasing progressively with length of treatment from 10.1 to 4.7% (p<0.01) after one year, researchers reported on Tuesday July 20th at the Eighteenth International AIDS Conference in Vienna.
Good treatment outcomes, defined as increases in CD4 count of more than 5% in children under five and more than 50 CD4 cells/mm3 in children aged 5 to 12, were achieved in 69.1%, 74.6% and 84.2% of children (p.<0.05) in Lesotho, Malawi and Swaziland, respectively, according to Richard Sebastian Wanless who presented the results of this retrospective study.
The proportion of children with HIV who are on antiretroviral treatment in resource-poor settings is low. The researchers believe this partly explains the absence of paediatric programme evaluations.
While much remains to be done, good progress has been made. According to the World Health Organization (WHO), an estimated 38% of children eligible for treatment were receiving it by the end of 2008, up from 10% in 2005. In Lesotho, where an estimated 15% of all those infected with HIV are children, children represent only 7.4% of those who have started treatment. In Swaziland, 47% of all deaths among children under five are attributable to HIV. In both Swaziland and Malawi the estimated proportion of children on ART is 10%.
The researchers undertook a retrospective study using data from programmes in the three Children's Centers of Excellence in Lesotho, Malawi and Swaziland.
Baylor International Pediatric AIDS Initiative works in collaboration and partnership with the ministries of health and non-governmental organisations in each of the countries. In Malawi they also work with the Abbott Fund, and in Swaziland and Lesotho with Bristol Myers Squibb's Secure the Future initiative.
Data were analysed for all HIV-infected children under the age of 12 (2306) who had started antiretroviral treatment and were followed for a year. Annualised mortality rates were calculated from February 2008 to September 2009. Seventy-eight per cent of all deaths occurred within the first few months of treatment. Increased risks for mortality, Dr. Wanless noted, included being under one year of age, having a WHO stage 4 disease, and being severely malnourished.
Children and infants responded well to treatment. The simplification and cost-effectiveness of fixed-dose combinations (FDCs) and use of WHO's simple weight band dosing tables contributes to scale-up, countering difficulties sometimes associated with a public health approach to treatment.
These results show that with a public health approach to paediatric HIV treatment in resource-poor settings, low mortality and good treatment outcomes are possible. The critical component is getting children onto treatment early enough and keeping them on treatment and in care.
Reference
Wanless RS et al. Mortality and ART efficacy outcomes in children <12 years on ART in Lesotho, Swaziland and Malawi. Eighteenth International AIDS Conference, Vienna, abstract TUPDB202, 2010.
Further information
Richard Sebastian Wanless's presentation and related abstract is avaliable on the official conference website
Without improved infant HIV diagnosis, early treatment recommendation may have limited impact
By Carole Leach-Lemens
Early infant HIV diagnosis (EID) is becoming more frequent, according to a retrospective multi-country analysis in Cambodia, Namibia, Senegal and Uganda in 2009, researchers announced today at the Eighteenth International AIDS Conference in Vienna.
The 2010 World Health Organization (WHO) guidelines recommend all infants infected with HIV under two years of age begin antiretroviral treatment regardless of CD4 count or disease stage. Without antiretroviral treatment an estimated 50% of children with HIV will die before the age of two.
HIV DNA testing is necessary to make a definitive diagnosis in children below 18 months because of the persistence of maternal antibodies up until this age.
The use of dried blood spots (DBS) has simplified sample collection as it is a less invasive procedure for infants, and facilitates storage and transportation to laboratories equipped to carry out DNA testing using polymerase chain reaction (PCR) testing, so providing a means in resource-poor settings for early infant diagnosis.
The study reported on Tuesday was led by the respective ministries of health with technical support from UNICEF.
The researchers reviewed a selection of 18 to 25 collection sites in each country, covering the geographic range of health centres, HIV service availability and time since the start of EID services; transportation and central laboratory components were also reviewed.  A standardised questionnaire was used to look at sample volume and programme practice and key informant interviews at the national level looked at programme management and scale-up.
Future planning must take into account the effects of decentralisation of EID services, noted Matt Barnhart of UNICEF.
Out of a total of 84 EID collection sites reviewed, with over 21,000 infants tested, geographical coverage varied from 9% in Senegal to 86% in Namibia. While sample collection has increased significantly in all four countries, service use remained under 50%, ranging from 30 to 40% at most sites.
In spite of decentralisation, service use was clustered in all four countries, representing just 2%, 8%, 9% and 9% of all potential sites in Namibia, Cambodia, Senegal and Uganda, respectively. Dr. Barnhart suggested this was due, in part, to lack of training and supervision in many sites. The samples were simply not being sent for testing. The issue that needs to be addressed, he stressed, is that of organisation of services and care at the sites. Additionally, he noted the possibility that patients found certain sites more accessible and allowed for anonymity.
While all national algorithms used encourage testing at six weeks, late age at diagnosis was common. Fewer than one half of infants tested were tested in their first two months of life, Dr. Barnhart noted. He added, "So coverage of the optimal service – early testing – is even lower."
The average ages were 5.3 months, 4 months, 4.4 months and 7.2 months in Cambodia, Senegal, Namibia and Uganda, respectively. However, some variations in age were seen in more established EID programmes that had been in operation for more than two years; in Uganda the average age in January 2008 was 7.4 months and in October 2009 6.1 months; in Namibia in January 2006 the average age at diagnosis was 6.2 months falling to 3.3 months in August 2009, indicating an improvement as the programme matured.
Of those infants who ever tested positive the numbers who were enrolled in care, remained alive and on antiretroviral treatment were low, ranging from 25 to 45%. 
These figures, Dr. Barnhart noted, underline the missed opportunities for early testing that include prevention of mother-to-child transmission (PMTCT) follow-up appointments after delivery, and scheduled vaccination visits to the clinic.
A focus on the timely use of testing services for EID leading to comprehensive treatment and care services is essential to further the success of treatment in HIV-infected infants and children, Dr.Barnhart stressed.
He also highlighted the differences in ease of scale-up which depends on pregnant women knowing their status. For example, coverage of early infant diagnosis is significantly higher in Namibia where, according to the presenters, 80 to 100% of HIV-positive pregnant women know their status, compared to Cambodia and Uganda where only an estimated 66 to 68% of women know theirs.
While these findings provide further opportunities to improve early infant diagnosis services, many improvements for HIV-exposed infants have been made: PMTCT coverage is increasing; the availability of infant testing services is growing; and – of critical importance – children do respond extremely well to antiretroviral therapy if tested early enough and so treated early, said Dr Barnhart.
He acknowledged the many challenges that are severely limiting the impact of EID: for example, late age at testing; centralisation of services; and slowly rising service coverage. However, with these findings, he added, ministries of health have already begun to plan, pilot and address the gaps to improve the survival of HIV exposed infants. 
Dr Francois Venter, in an earlier satellite session on early infant diagnosis, explained that where he works, in a busy urban setting in Johannesburg, "Over the past few years the numbers of infants getting tested has increased fivefold, yet the numbers on treatment hasn't budged one iota." He cautioned, "If the system is not there to support the area, it doesn't matter how good the test is." He suggested that the outcome, that is the numbers of children on treatment [and remaining in care] is a useful barometer for how well a public health system serves the most vulnerable and those most in need.
Under current circumstances, with relatively low utilisation of infant HIV diagnosis, adoption of the new WHO guidelines on immediate treatment of all children under two with HIV infection will not significantly increase the numbers of children with HIV found to be eligible for treatment, according to another poster presentation of research undertaken in Uganda using a real-life cohort followed since 2003.
The researchers found that only half of all children eligible, no matter the criteria used (CD4 cell count, disease stage or age), would be put on treatment. As with the four-country analysis, the crucial component, according to Martina Pennazzato and colleagues, is improving timely access to early infant diagnosis.
The researchers applied WHO guidelines of 2006, 2008 and 2010 separately to a cohort of 985 children with a median age of five years, ten months, followed since 2003.
The proportion of those eligible for antiretroviral treatment was identified, as well as the probability of starting antiretroviral treatment over time.
In accordance with the guidelines of 2006, 2008 and 2010, 40%, 57% and 66% of all children, respectively, would have been eligible for treatment at enrolment. The probability of not being on treatment two years later following these criteria would have been 24%, 16% and 12%. 
No matter the criteria used (CD4 cell count, clinical stage or age) to identify eligibility, only half of all eligible children ever started antiretroviral treatment. After 2008, age was the least used criteria to identify eligibility (OR 10.5 95% CI: 3.8 to 3.11).
Martina Pennazzato noted that, in this implementation stage of the guidelines:
paediatric programmes linked to prevention of mother-to-child transmission (PMTCT) programmes were more likely to enrol infants and young children.

the wide dissemination and implementation of the guidelines was critical; together with being able to counter the scepticism of some of those working in the field who, while knowing it is the right thing to do, often think twice about putting asymptomatic infants on treatment because of the challenges involved.
Future planning requires looking at how to improve current EID services as well as scaling-up to ensure infants and children are started on treatment early enough to make a difference in health outcomes.
References
Tripathi S. et al. Increasing uptake of HIV early infant diagnosis (EID) services in four countries (Cambodia, Namibia, Senegal and Uganda). Eighteenth International AIDS Conference, Vienna, abstract TUPD205, 2010.
Penazzato M et al. The evolution of paediatric antiretroviral treatment guidelines: what's the impact on the ground? Eighteenth International AIDS Conference, Vienna, abstract TUPDB204, 2010.
Further information
Abstracts and a presentation for this session is available
Low birth weight seen in small minority of infants exposed to some antiretroviral drugs
By Carole Leach-Lemens
Analyses of 20 years of data from the Antiretroviral Pregnancy Register (APR) shows no risk of birth defects or other defects from antiretroviral use, either in combination or as individual drugs, when compared with observed rates in a population-based surveillance system, researchers reported at the Eighteenth International Conference on AIDS in Vienna.  
However, further research from the Antiretroviral Pregnancy Register showed that exposure to protease inhibitors (PIs) may potentially contribute to pre-term birth (PTB) and low birth weight (LBW), while the Pediatric HIV/AIDS Cohort Study (PHACS) Surveillance Monitoring of Antiretroviral Toxicity (SMARTT) reported that exposure to tenofovir (TDF, Viread) may slow infant growth.
Efavirenz: no evidence of increased risk of birth defects
The first trimester is a time of intensive growth of vital organs, when the foetus is especially susceptible to the harmful effects of drugs or other substances.
Efavirenz exposure during early pregnancy has been shown in animal studies to lead to birth defects, leading to a recommendation that it should not be used in pregnancy, especially in the first trimester.
Nathan Ford, of the University of Cape Town, and colleagues, elaborated on results, published earlier this month, of a systematic review and meta-analysis suggesting that efavirenz taken in the first trimester did not affect birth outcomes. However, given the small sample size involved, the researchers called for further studies using larger numbers.
He also cautioned of the risks associated with acting on suspicion of efavirenz causing birth defects. He stressed the need for careful counselling since the findings showed that a high rate of termination of pregnancy was being driven by suspicion and not by evidence. He also highlighted the need for standardisation of outcome data collection and the need for a more robust data set.
The need for long-term surveillance of antiretroviral-exposed infants
Antiretroviral therapy has had a significant effect on improving maternal health and reducing mortality, as well as preventing the transmission of HIV to infants. "As maternal triple-drug use increases, it is critical to enhance surveillance for complications in pregnancy and [the] long-term outcomes in infants," stated Lynne Mofenson in her overview and introduction to the session. She gave the example of a drug given to pregnant women in the 1950s, diethylstibesterol (DES), the effects of which were not recognised in the female offspring for decades, who were at increased risk for cervical as well as other cancers.
The Antiretroviral Pregnancy Register is an ongoing international registry started in 1989 to collect reports from healthcare providers about adverse outcomes, such as birth defects or other abnormalities among infants born to women taking antiretrovirals during pregnancy.
A total of 11,261 live births to women with HIV receiving antiretroviral drugs were reported to the Antiretroviral Pregnancy Register. Of infants exposed to antiretrovirals from January 1989 to January 2010, the overall  prevalence was 2.7 defects per 100  births (95% CI: 2.4 to 3.0), Vani Vannappagari reported. Of the 4864 infants exposed during the first trimester, the prevalence rate was 2.8% (95% CI: 2.4 to 3.4). These rates are comparable both to the general population-based surveillance system, with a rate of 2.7%, (95%CI: 2.68 to 2.76) and the internal comparator of those exposed during the second and third trimesters – 2.5% (95%CI: 2.2 to 3.0).
Understanding of the association between exposure to antiretrovirals, pre-term births and low birth-weight (under 2500 grammes) is poorly understood. Some evidence from small cohorts has suggested the increased prevalence of pre-term birth and low birth weight is associated with exposure to protease inhibitors. Other studies have not reproduced this finding.
In a separate analysis of the Antiretroviral Pregnancy Register, Karen Beckerman and colleagues analysed 7334 of 10,022 reported births from January 1989 to January 2009. The researchers compared the prevalence of pre-term births at less than 37 weeks into the pregnancy, at less than 32 weeks, birth weight under 2500 grammes, and birth weight under 1500 grammes among infants exposed to one antiretroviral, two or more antiretrovirals (combination therapy) that included a protease inhibitor (PI), and combination therapy that did not include a PI.
No differences were reported in pre-term births and birth weight under 2500 grammes in those newborns exposed either to one drug or to a combination of antiretrovirals.
However, more infants exposed to combination therapy that included a PI were born weighing less than 1500 grammes (17.4%) than those exposed to combination therapy without a PI (14%).
Pre-term birth (under 37 weeks) was higher in those women on a PI-containing regimen than without, 14.1% compared to.11.8% (p 0.003). However, there was no significant difference in the proportion of pre-term births that occurred before 32 weeks of gestation according to the dose of drug the mother took.  
The prevalence of birth weight under 1500 grammes in those exposed to a combination that included a PI, while higher than in those exposed to a combination without a PI, was the same as those exposed to one antiretroviral and was protective against pre-term birth under 32 weeks (p 0.05).
Nonetheless, the prevalence of birth weight under 1500 grammes was lower in all combination groups than in previously published reports of cohorts of HIV-exposed newborns with no antiretroviral exposure.  
Very low birth weights, Karen Beckman cautioned, are seen in very small numbers of infants. For example, in their analysis of 10,000 live births, 188 babies were born weighing less than 1500 grammes.
She added that pre-term birth is better described as pre-term delivery syndrome. "Multiple causes are involved, including infectious and immunological ones," she noted, adding, "We do not know how maternal disease stage and activity may affect pregnancy." 
Potential effect of tenofovir on infant growth
The PHACS SMARTT study set up in the United States to look at adverse effects of infants exposed to antiretrovirals during pregnancy, with annual follow-up, looked at the effects of tenofovir on low-birth weight and infant growth. Animal studies had raised concerns about the potential of maternal tenofovir slowing infant growth.
Tenofovir is a recommended component of first-line treatment for adults, with increasing use in pregnant women. The Antiretroviral Pregnancy Register study showed low birth weight was not associated with the use of tenofovir. Use of tenofovir had increased from 15% in 2003 to 39% in 2009. George Siberry and colleagues reported no increased risk for low birth weight of the 20% (380) of infants exposed to tenofovir, compared to those not exposed (20.7 vs 19.5%, p=0.46).
However, results suggested that tenofovir may slow infant growth, its effect being delayed. Among 532 one-year-old infants, those exposed to tenofovir during pregnancy had almost twice the risk for low weight compared to those not exposed (aOR=1.76, 95% CI: 1.01 to 3.05). Differences in length and size of head circumference were not significant.
Responding to a comment from the audience, Dr. Siberry said he would look again whether this may have resulted from mothers with hepatitis B co-infection, but he was doubtful since all confounders had been considered.
The researchers concluded that more evidence is needed on the impact of tenofovir exposure on infant growth rates. Chewe Luo, Senior HIV/AIDS Adviser, Technical Scale-Up Cluster, UNICEF, commented "This is a concern. We need to look at this more critically," and suggested "a nested case-control study to evaluate these results".
Dr Nathan Shaffer of the World Health Organization (WHO), co-chair of the session, noted that the Antiretroviral Pregnancy Register was based primarily on data from the United States and Europe. In response to his concern about how this would expand to include other regions of the world, Dr. Vannappagari noted that there was now a toll-free number operating in a number of African countries, as well as Brazil, for data reporting, in addition to internet reporting for those with access. Further details can be obtained from www.apregistry.com.
References
Siberry G et al. Safety of tenofovir use during pregnancy: associations with low birth weight and early growth in HIV-exposed uninfected infants. Eighteenth International Conference on AIDS, Vienna, abstract WEAX0103, 2010.
Vannappagari V et al. Monitoring birth defects among HIV positive, ART exposed pregnant women: 20 years of antiretroviral pregnancy registry data. Eighteenth International Conference on AIDS, Vienna, abstract WEAX0104, 2010.
Beckerman K et al. Preterm Birth (PTB), low birth weight (LBW) and fetal antiretroviral (ARV) exposure: gestational age (EGA)  and birth weight data from 10022 singleton live births (LB) reported to the Antiretroviral Pregnancy Registry (APR) 1989 through January 31 2009. Eighteenth International Conference on AIDS, Vienna, abstract WEAX0105, 2010.
Mofenson L. Overview on antiretrovirals during pregnancy and breastfeeding: importance of surveillance and implications for developing countries. Eighteenth International Conference on AIDS, Vienna, abstract WEAX0101, 2010.
Ford N et al. Safety of efavirenz in first-trimester of pregnancy: a systematic review and meta-analysis of outcomes from observational cohorts. Eighteenth International Conference on AIDS, Vienna, abstract WEAX0102, 2010.
Further information
Presentations by the speakers and their related abstracts are available on the official conference website.
Child development affected by late treatment start in resource-limited settings
By Carole Leach-Lemens
Children infected with HIV in resource-poor settings are at a significant risk for developmental impairment – affecting neurocognitive functions as well as growth – in spite of increased access to antiretroviral treatment, researchers reported at the Eighteenth International Conference on AIDS in Vienna on July 19.
Earlier initiation of treatment for optimum growth is strongly indicated in the light of these findings, said researchers from the Perinatal HIV Research Unit, Soweto, and colleagues in Vancouver. They found that children who had started treatment with a CD4 count over 200 had better improvements in weight-for-age and height-for-age scores after starting treatment.
Another study in Jamaica showed that healthcare workers having appropriate screening tools to detect the signs and symptoms of neurological damage (and referring to appropriate treatment and services) as children move into adolescence will be key to mitigating the impact of HIV in children.
In additional, Luminita Ene and colleagues in Romania reported that the presence of viral subtype F may worsen neurological problems.
They found a high prevalence of neurocognitive impairment and of AIDS-defining opportunistic infections among a cohort of HIV-infected Romanian children, a homogenous group that included those exposed to HIV clade F and who had been on combination antiretroviral treatment for at least ten years.
Among 528 children treated between 1996 and 2008, 43.7% (231) had central nervous system complications. While the number of cases of HIV encephalopathy and opportunistic central nervous system infections decreased with the introduction of combination antiretroviral treatment, the proportion within all AIDS-defining illnesses remained unchanged.
In Jamaica, researchers conducted a two-part analysis (consisting of a database review and a prospective nested case-control study ) of the neurological outcomes of infected children at four paediatric clinics in the Greater Kingston Metropolitan Area of Jamaica from September 2002 to August 2008. Samantha Walker and colleagues found that 23.3% (67) of the children had been diagnosed with HIV encephalopathy, at a median age of 1.57 years (IQR: 1.08 to 3.43).
The primary neuro-developmental abnormalities at diagnosis included: delayed growth (88%); hyperreflexia (being overactive, causing twitching, muscle tension) (88%); spasticity (muscle tension and stiffness) (65%); microcephaly (small skull circumference for age) (63%); and quadriparesis (muscle weakness in all four limbs) (31%).
No significant changes in neurodevelopmental abnormalities were seen after one year on antiretroviral therapy.
Children who had previously been diagnosed  with HIV encephalopathy had difficulty with concept-forming tests, poor short-term memory and inconsistent attention spans, and small skull circumference (for age), as well as needing more time to complete tests that required motor-skill co-ordination, compared to the case controls.
Dr Walker said it was possible that antiretroviral treatment may have started after irreversible central nervous system damage had already happened. She stressed the importance of having feasible, cost-effective screening tools for early detection of neurocognitive impairment to allow for appropriate intervention strategies – for example, rehabilitation services – particularly as children grow into adolescence.
Erica Maxine Lazarus and colleagues reported on a retrospective cross-sectional analysis at the Perinatal HIV Research Unit in Soweto, South Africa, of adolescents (aged 11 to 19 years) on antiretroviral therapy, to look at the effects of baseline CD4 cell count (categorised as above and below 200 cells/mm3), viral response (categorised as above and below 400 copies/ml), and length of time on treatment, on growth.
Of the 107 adolescents, median age at the start of antiretroviral treatment was 8.4 years (IQR: 6.07 to 11.4), and 14.75 years (IQR: 13.49 to 16.47) at the time of the review. Median time on antiretroviral therapy was 6.1 years (IQR: 2.4 to 9.1).
Fifty-nine per cent of the adolescents had a CD4 cell count greater than 200 cells/mm3 at the start of treatment. Eighty-four per cent had viral loads under 400 copies/ml at their most recent visit. Of the four measures (CD4 cell count; baseline age; length of time on treatment; and most recent viral load), baseline CD4 cell count alone was associated with significant increases in height.
Children with CD4 cell counts greater than 200 cells/mm3 at the start of treatment had almost three times the odds of improved height compared to those with baseline CD4 cell count under 200 cells/mm3.
For best growth outcomes into adolescence, Dr Lazarus and her colleagues recommended starting antiretroviral treatment in children over five years of age with CD4 cell counts over 200 cells/mm3.
References
Walker S et al. Neurocognitive function in HIV positive children in a developing country. Abstract MOAB0401. Eighteenth International AIDS Conference, Vienna, July 2010.
Duiculescu D et al. High prevalence and particular aspects of HIV-related neurological complications in a Romanian cohort of HIV-infected children and young adults. Abstract MOAB0402. Eighteenth International AIDS Conference, Vienna, July 2010.
Lazarus EM et al. Effect of baseline immunological condition, virological response and duration of HAART on growth in HIV-infected adolescents. MOAB0403.Eighteenth International AIDS Conference, Vienna, July 2010.
Further information
Presentations and abstracts from this session are available on the official conference website.
Early treatment for infants cheaper than delaying treatment, CHER study shows
By Carole Leach-Lemens
Starting antiretroviral treatment early in HIV-infected infants, at a median of seven weeks of age, resulted in cost savings of 45%, compared to deferring treatment until a median age of 29 weeks, reported Gesine Meyer-Rath today at a late-breaker session of the Eighteenth International AIDS Conference in Vienna. Her presentation gave the results of a comparative economic analysis of treatment in the first year of life from the Children with HIV Early Antiretroviral Therapy (CHER) trial in South Africa.
While outpatient costs for those infants in a real-life "routine" care setting were three to four times lower than in the two other arms (early and deferred) due to lack of antiretroviral therapy, the savings were cancelled out by the higher costs of inpatient care, accounting for 85% of total costs. 
The total cost of care for each child in "routine" care with delayed access to antiretroviral treatment was over twice the total cost of care for children who got early treatment.
The preliminary results of the ongoing CHER landmark study, conducted in Johannesburg and Cape Town, South Africa, have led the World Health Organization (WHO) to recommend immediate treatment of all HIV-infected children under the age of two regardless of their CD4 count or disease stage.
The study showed that starting antiretroviral treatment in asymptomatic HIV-infected infants with a CD4 percentage of less than 25%,at a median age of seven weeks, reduced the death rate from 16 to 4% in a follow-up period of 32 weeks, compared to those where treatment was delayed – representing a 76% reduction in infant deaths in the immediate-treatment arm.  Those with delayed treatment showed a rapid disease progression and sudden death.
Concerns over the cost of early treatment, as well as the affordability of full coverage with paediatric treatment, appear to be one of the the primary obstacles to implementation. This led the researchers to analyse the full cost of care during the first year of life from a provider perspective.
The researchers chose to compare the costs of this strategy with "routine" care in a real-life clinic setting where eligibility for treatment was based on WHO guidelines in use at the time: stage 3 or 4 clinical disease or CD4 percentages under 20%. In this setting, the mean CD4 percentage was 15% when starting antiretroviral treatment.
Data on use of outpatient and inpatient resources data were collected for each of the three arms for the first 12 months of life: the CHER trial comprised both 373 infants randomised to receive either early (arms 2/3; 284 in total) or deferred (arm 1; totalling 89) antiretroviral treatment, and 143 infants who started antiretroviral treatment at the Empilweni Clinic in Johannesburg between 2005 and 2007 (the "routine" arm).
Mean ages at the start of antiretroviral treatment were 10, 20 and 27 weeks for the early, deferred and "routine" arms, respectively.
"Patient resource use" included the number of clinic consultations, antiretroviral drugs given out, laboratory tests and days spent as an inpatient. Clinic and hospital accounts provided staff costs inclusive of benefits, equipment, supplies and overheads. The South African government medical department provided the unit cost of drugs and the government laboratory service provided costs of laboratory tests. All cost data were based on 2009 figures.
The infants were followed from the start of treatment for ten months, nine months and three months in the early, deferred and "routine" arms, respectively.  
The mean cost per child on deferred treatment was US$2432 (95% CI: 1982 to 2889,) whereas on early treatment it was US$1349 (95% CI: 1244 to 1464) – a significant cost saving of 45%.
The mean inpatient costs in the early treatment arm represented 26% of total costs or US$346 whereas inpatient costs in the deferred arm amounted to 51% of the total costs or US$1237.  
The mean cost per child in "routine" care was US$2,908 (95%, CI: 2273 to 3743), and in this arm inpatient costs represented a staggering 85% (US$2523) of the total costs.
The cost differences are mostly due to the number of hospitalisations. The mean number of days as inpatients was:
Early: two days for each child (with a maximum of 68 days).
Deferred: seven days for each child (with a maximum of 84 days).
Routine: 13 days for each child (with a maximum of 121 days).
The level of hospitalisation reflects the severity of illness of each child.  
Laboratory costs and staff and overheads did not differ significantly between the early and deferred arms. 
The researchers then looked at what the budget implications would be for South Africa, based on the National ART Cost Model (NACM)/Budget Review of the National Treasury.
Assuming early paediatric treatment at 90% coverage:
For the fiscal year 2010/11, 103,000 children would be on ART at a total cost of US$67 million – representing 6% of the cost of the national ART programme and 1% of the public health budget.
For the fiscal year 2011/12, 162,000 children would be on ART at a total cost of US$104 million – representing 6% of the cost of the national ART programme and 1% of the public health budget.
For the fiscal year 2012/13, 202,000 children would be on ART at a total cost of  US$133 million – representing 6% of the cost of the national ART programme and 1% of the public health budget.
Dr Meyer-Rath noted that the cost of the paediatric antiretroviral treatment programme will always be overshadowed by the cost of the adult programme, irrespective of eligibility criteria.
Dr Meyer-Rath noted a number of limitations including:
Daily inpatient care costs were based on an average cost across all wards, and so represent a conservative estimate.

Costs of screening all HIV-exposed children were not included. This would amount to an additional US$300 for each child.

The treatment of those children in the early-treatment arm differed from treatment in practice and included better follow-up and being on a lopinavir/ritonavir-containing regimen.

All arms consisted of children who had survived to start antiretroviral treatment.

The difference in costs depended on children being taken to the hospital for admission.
Early treatment during the first year of life not only improves infant survival but provides significant cost savings, notably in terms of resource use within the hospital or clinic setting, than either deferred or "routine" treatment, the research group concluded.
Reference
Meyer-Rath G et al. The cost of early vs. deferred paediatric antiretroviral treatment in South Africa – a comparative analysis of the first year of the CHER trial. Eighteenth International AIDS Conference, Vienna, late breaker abstract THLBB103, 2010.
Further information
View abstract and slides from this session on the official conference website.