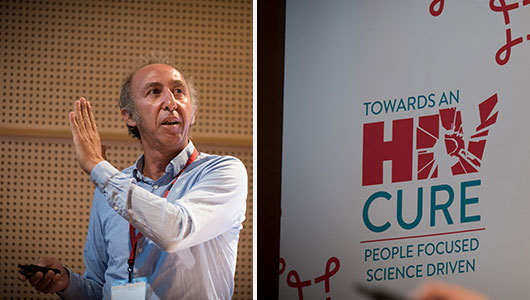 Monsef Benkirane at IAS 2017. Photo by Marcus Rose/IAS
The 2017 IAS HIV Cure and Cancer Forum, preceding the 9th International AIDS Society Conference on HIV Science (IAS 2017), brought together researchers in the fields of HIV cure research and oncology to discuss the emerging overlaps between the cutting edges of HIV and cancer research.
The Forum heard about the experimental use of new cancer drugs, called immune checkpoint inhibitors, which might improve the ability of the immune system to clear HIV-infected cells by blocking the cellular receptors which switch off some immune responses.
Studies so far have been confined to people with HIV who also have cancers, and show modest effects. Professor Sharon Lewin said that more studies will be needed, in people with HIV who do not have cancer, to establish whether these drugs can play a role in reducing the HIV reservoir.
One thing that would help efforts to cure HIV and to use new types of drugs to eradicate HIV-infected cells would be if reservoir cells could be identified more easily. The Forum heard that researchers at the University of Oxford have found that in people with HIV, reservoir cells had from 100 to 1000 times as much of the cellular receptor molecule CD32a on their surface. Detection of CD32a has the potential to be an important tool in cure research.
Controlling HIV off treatment was also a focus of the Forum. One of the most widely reported stories of the conference was the discovery of a South African child who had started treatment early but who had now been off antiretroviral therapy for 8.5 years without a viral load rebound. Research is still ongoing to understand why viral rebound has not occurred in this case, but other new findings from human and animal studies presented at the Forum suggest that a very low level of the anti-HIV antibodies of the type called IgG or very high levels of natural killer cells may characterise the best 'controller' responses. These findings may offer clues for the development of therapeutic vaccines that can help to control HIV off treatment.
Curing HIV infection completely, by eradicating the virus from the body, appears to have happened only in one case, after a bone marrow transplant replaced Timothy Ray Brown's stem cells. Researchers think that the critical element in his case that led to eradication was the development of graft versus host disease – a condition in which the grafted bone marrow cells 'reject' the body's own cells as foreign. Spanish researchers reported on a small international cohort of people living with HIV who have undergone bone marrow transplants and who have no trace of HIV – like Timothy Ray Brown. At the moment, all are taking antiretroviral therapy; experimental treatment interruptions are planned next year to see whether viral rebound occurs.
Experimental treatment interruptions will be a critical component of future cure studies, but the Forum heard from Michael Louella of the University of Washington AIDS Clinical Trials Unit that the single biggest barrier to recruitment to future cure studies may be a fear of becoming infectious again after stopping antiretroviral treatment.
"People are loath to lose their hard-won viral undetectability," Louella commented.