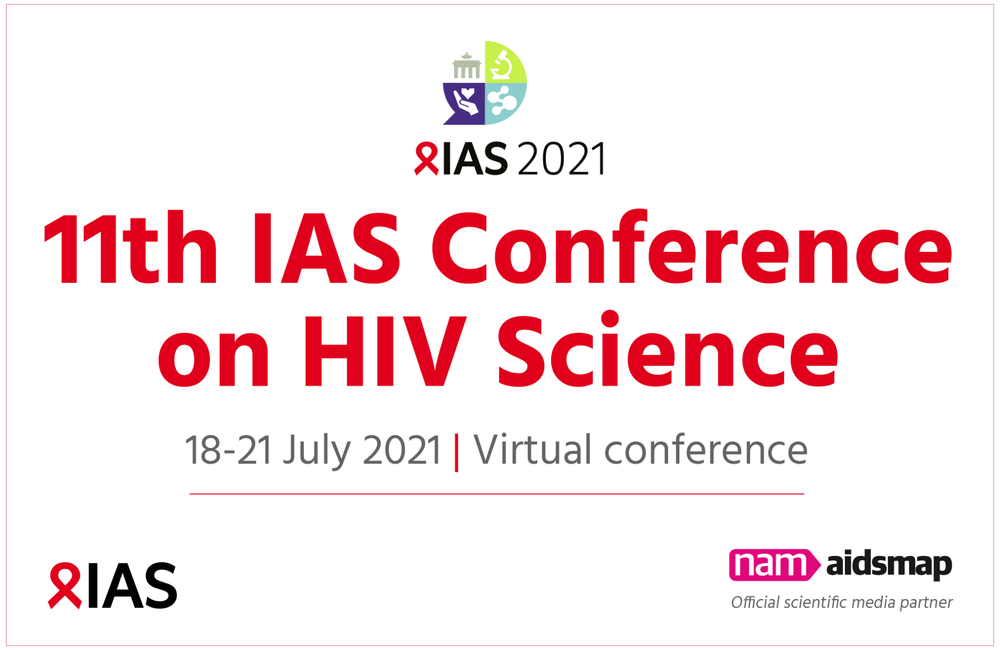 The 11th International AIDS Society Conference on HIV Science (IAS 2021) is taking place from 18 to 21 July. It is being held virtually this year, with a local partner hub in Berlin.
NAM aidsmap is delighted to be continuing its partnership with the International AIDS Society as an official scientific media partner for the conference.
We'll be reporting on key research presented at the conference, publishing news online and sending out five summary bulletins by email, four during the week of the conference and one the following week. The bulletins will be available in English, French, Spanish, Portuguese, Russian and Italian. If you already receive NAM's regular email bulletins, you will automatically receive our conference bulletins. If you don't, make sure you sign up so you don't miss out.
All our conference news stories and bulletins will be published on our IAS 2021 webpage.
The International AIDS Society conference
The IAS conference is the world's most influential meeting on HIV research.
IAS 2021 was planned to be held in Berlin, Germany. However, due to the ongoing coronavirus, it will be a virtual event this year, but with a local partner hub in the original host city. The Berlin Hub will feature panel discussions focusing on the HIV response in Germany and neighbouring countries.
"This biennial conference presents the critical advances in basic, clinical and operational research that moves science into policy and practice. Through its open and inclusive programme development, the meeting sets the gold standard of HIV research featuring highly diverse and cutting-edge studies. IAS 2021 participants can expect a full conference experience via an easy-to-use digital platform that connects researchers, health care providers, advocates and policy makers." IAS 2021 website
This year's conference will feature research on:
The development of new long-acting antiretrovirals, including lenacapavir
COVID-19 in people with HIV and the impact of the pandemic on HIV care
Scale-up of oral PrEP in diverse settings
How people would like to receive their HIV care, including injectables
New oral therapies for TB
Treatment issues for children
Transgender health.
The IAS 2021 programme is available online. New for this year are the Meet the Expert sessions, where delegates can join interactive discussions in small groups with experts. Delegates can also join engagement tours, virtual site visits to community-based organisations in Berlin.
You can find out more about IAS 2021 on the official conference website: www.ias2021.org
Sharing knowledge, changing lives
NAM works to change lives by sharing information about HIV and you can help by sharing links to research presented at the conference. Please feel free to: