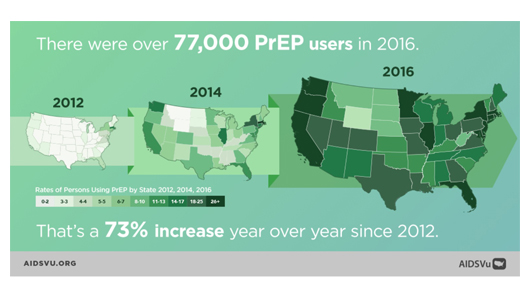 Graphic from the AIDSVu website: https://aidsvu.org/resources/mapping-prep
The number of people taking HIV pre-exposure prophylaxis (PrEP) in the United States is steadily increasing, but PrEP is only reaching a small proportion of those who could benefit from it, the 25th Conference on Retroviruses and Opportunistic Infections (CROI 2018) in Boston was told this week. Although African Americans and Latinos make up about two-thirds of people who stand to benefit from PrEP, they are much less likely than white people to be using it.
For several years, Gilead Sciences, the maker of Truvada, has been reporting PrEP use estimates based on surveys of commercial pharmacies (thought to represent over 85% of PrEP prescriptions). Gilead have now collaborated with Patrick Sullivan of Emory University and AIDSVu to present the data. This could help health departments, medical professionals and community leaders to better understand and reduce disparities in PrEP usage.
Data come from 54,000 commercial pharmacies and a number of other medical settings, and include prescriptions paid by Medicaid and patient assistance programmes. However, it does not include demonstration studies, military veterans' health systems and managed care providers that run their own pharmacies, such as Kaiser Permanente.  
During 2016, 77,120 people were using PrEP, up from 8768 in 2012. But behind these overall numbers lie some notable demographic and geographic disparities.
Although women account for about 19% of all new HIV diagnoses in the US, they make up only 7% of PrEP users. While 21% of new diagnoses are in people under the age of 25, only 11% of PrEP users are in this age group.
More than half of all new HIV diagnoses occur in the south, but this region was home to only 30% of PrEP users. After adjusting for population size, the states of New York, Massachusetts, Rhode Island, Washington and Illinois had the highest PrEP usage rates.
States with a higher proportion of people living in poverty, more people without health insurance and those that did not implement Medicaid expansion under President Obama's health reforms have lower rates of PrEP usage.
Prescription data often do not include information about race, but the Centers for Disease Control and Prevention (CDC) estimate that only 1% of African Americans who meet the PrEP eligibility criteria are using PrEP. Similarly, only 3% of Latinos are using PrEP.
There was a smaller but still considerable gap for white people, with 14% of eligible individuals receiving PrEP.