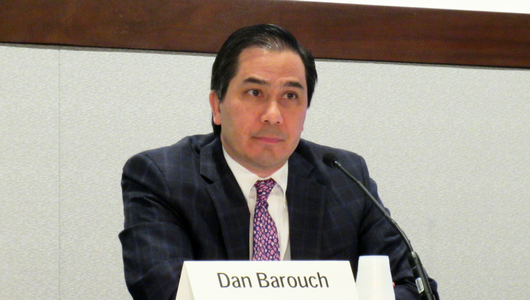 Dan Barouch presenting at CROI 2018. Photo by Liz Highleyman.
Treatment with a broadly neutralising antibody plus an immune-stimulating drug led to long-term viral remission after interrupting antiretroviral therapy (ART) in a monkey study, according to data presented at the 25th Conference on Retroviruses and Opportunistic Infections (CROI 2018) this week in Boston.
The study involved rhesus macaques infected with a human-simian hybrid virus known as SHIV. During acute infection, they started a three-drug combination of antiretrovirals. Two years after achieving viral suppression, they received infusions of the broadly neutralising antibody PGT121 (five doses, every two weeks) and the TLR7 agonist GS-9620 (ten doses, every two weeks), or placebo treatment. ART was discontinued four months after the last doses of PGT121 and GS-9620.
PGT121 is a broadly neutralising antibody that targets the V3 glycan site on the outer envelope of HIV and SIV, a related virus that infects monkeys. GS-9620 is a TLR7 agonist that stimulates toll-like receptors on immune cells, part of the innate immune system that promotes recognition and response to viruses. Activating TLR7 enhances the activity of T-cells, natural killer cells and other immune cells. This is a 'kick and kill' strategy that aims to reactivate the reservoir of latent virus and help the immune system attack it.
The treatment substantially delayed and controlled viral rebound following discontinuation of antiretrovirals. Monkeys that received the experimental treatment maintained an undetectable viral load without antiretrovirals for a median of 112 days. Five of eleven treated animals still remained virally suppressed at six months.
Even after rebounding, monkeys that received the experimental treatment had lower viral load setpoints and lower viral DNA levels in their lymph nodes than monkeys that received placebos. This suggests a decrease in the viral reservoir and some level of immune control over the virus.
This is the first evidence of a cure strategy being able to induce immune control in monkeys. Achieving a similar result in humans would be a major advance.
Dr Dan Barouch of Beth Israel Deaconess Medical Center in Boston was cautious in interpreting his study's results. He noted that even if this approach prevents viral rebound for several months, that doesn't preclude the possibility that virus is still present and could reactivate months or even years later. Even the most sensitive tests available today cannot detect all latent virus, he said.
Gilead Sciences is working on early, phase I trials of this combination in humans.