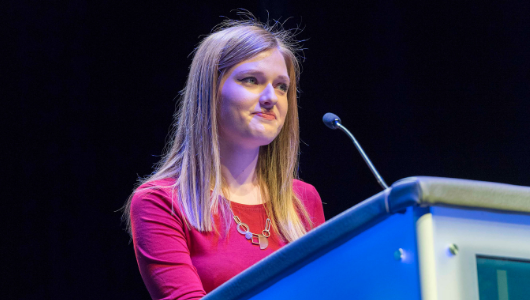 Victoria Pilkington at HIV Glasgow 2018. Image credit: HIV Glasgow
A meta-analysis of randomised controlled trials of tenofovir or tenofovir/emtricitabine as pre-exposure prophylaxis (PrEP) has found no increase in the risk of serious adverse health events over placebo. In particular, the study showed no increase in bone fractures or significant kidney dysfunction, although mild kidney dysfunction (grades 1 and 2) occurred more frequently in PrEP users.
The meta-analysis was presented at the International Congress on Drug Therapy in HIV Infection (HIV Glasgow) by Victoria Pilkington of Imperial College, London.
Data was pooled from 13 placebo-controlled trials and one open-label study in which Truvada or tenofovir alone was compared to a placebo or no treatment. Three of the studies used tenofovir alone, one (IPERGAY) was of intermittent PrEP, and one (PROUD), compared Truvada versus no treatment.
The meta-analysis compared:
All serious or life-threatening adverse events (grade 3 and 4) on PrEP versus placebo.
All protocol-defined serious adverse events (i.e. ones the researchers had been expecting might happen) on PrEP versus placebo.
All grade 3 or 4 creatinine elevations on PrEP versus placebo.
All bone fractures on PrEP versus placebo.
The study found no significant difference between PrEP and placebo for any of these side-effects.
A subsequent analysis of grade 1 or 2 creatinine elevations – an early sign of reduced kidney function – showed a significantly greater number of events in people who took PrEP compared to placebo or no treatment (4.3% of PrEP users vs 2.3% of non-PrEP users).
The meta-analysis could not compare changes in bone mineral density or creatinine clearance due to inconsistent measurements between studies. The meta-analysis did not include acute side-effects such as nausea and headache.