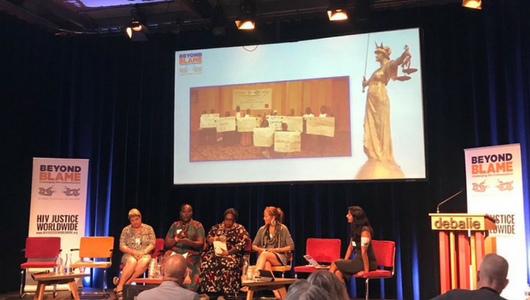 Speakers at the Beyond Blame symposium. Image credit: @KatSmithson
Strategies to oppose the unscientific criminalisation of HIV transmission received a high profile at events held in Amsterdam this week to coincide with the 22nd International AIDS Conference (AIDS 2018).
These included the launch by the Global Commission on HIV and the Law of a Supplement to its 2012 report, Risks, Rights & Health.
The first edition of Risks, Rights & Health called on governments to outlaw discrimination, repeal punitive laws, and enact protective legislation to promote public health and human rights.
The 2018 Supplement emphasises that the original recommendations remain relevant, but offers additional recommendations, taking into account developments in science, technology, law, geopolitics and funding since 2012. 
The new recommendations include:
In countries where HIV criminalisation laws still exist, courts must require proof, to the applicable criminal law standard, of intent to transmit HIV.
Governments must ensure that, where an HIV-specific law has been repealed, there is a restriction on the application of any general laws to the same effect either for HIV or tuberculosis.
Governments must prohibit the prosecution under HIV-specific statutes, drug laws, or child abuse and neglect laws, of women living with HIV for choices they make during and after pregnancy, including about breastfeeding children.
Whenever HIV arises in the context of a criminal case, police, lawyers, judges and where applicable, juries, must be informed by the best available scientific evidence concerning the benefits and consequences of appropriate therapy.
Also this week, the Beyond Blame: Challenging HIV Criminalisation symposium, organised by HIV Justice Worldwide, brought together activists, advocates, lawyers, scientists, healthcare professionals, and policymakers from across the world to identify ways in which punitive laws and their enforcement might best be challenged.
The symposium included a comprehensive round up of the current state of criminalisation in regions across the world, personal testimonies of encounters with criminalisation and discussion of the benefits and pitfalls of using advances in prevention and treatment in advocacy work. Videos of the plenary sessions are available on the HIV Justice Worldwide YouTube channel.