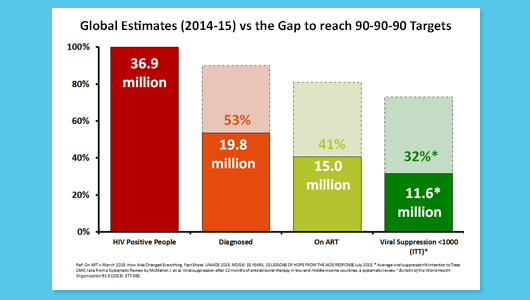 Image from presentation by Jacob Levi, Imperial College London, at IAS 2015.
Global analysis of HIV treatment cascades – the proportions of people diagnosed with HIV, in care, on treatment and virally suppressed – shows that some of the world's richest countries are still far short of achieving the UNAIDS 90-90-90 target. Progress is worst in Eastern Europe.
The findings were presented by Jacob Levi at the Eighth International AIDS Society Conference on HIV Pathogenesis, Treatment and Prevention (IAS 2015) in Vancouver – described by numerous speakers this week as the '90-90-90' conference.
The 90-90-90 target set by UNAIDS aims to diagnose 90% of all people with HIV, provide antiretroviral therapy for 90% of those diagnosed, and achieve undetectable HIV RNA for 90% of those on treatment, by 2020. This ambitious target translates into undetectable viral load in 73% of all people living with HIV.
How far are countries from achieving these targets? In some cases fairly close, but in others, the gap is enormous.
Research conducted by a team from Imperial College, London, and the Cantonal Hospital of St. Gallen, Switzerland, updating a previous survey, shows that Switzerland, Australia and the United Kingdom have the highest proportion of people living with HIV with undetectable viral load. In these countries, over 60% of the estimated population of people living with HIV have undetectable viral load, compared with 30% in the United States.
Worldwide, 36.9 million people are estimated to be living with HIV of whom 53% are diagnosed, 13.4 million people short of the 90% target. 41% are on treatment, 14.9 million people short of the target, and 32% are virally suppressed, 15.3 million people short of the target. Approximately 2 million people each year are becoming infected at current rates of transmission.
Breaking this down to look at national treatment cascades, the research group found enormous variations at each stage of the cascade. They sought to identify 'breakpoints' – steps where more than 10% of people were lost.
The proportion of the estimated population of people living with HIV who had been diagnosed varied from 86% in the United States and Australia to 51% in sub-Saharan Africa and 44% in Ukraine. Many countries were identified as having breakpoints in HIV diagnosis, indicating the global importance of improving rates of HIV diagnosis.