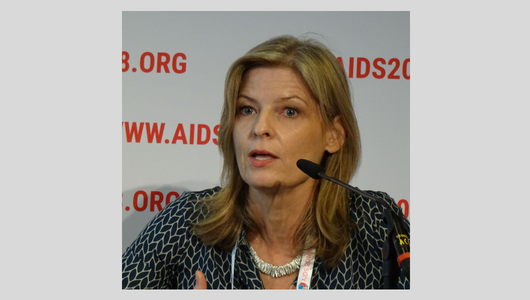 Alison Rodger at the PARTNER 2 press conference. Photo by Gus Cairns.
The likelihood of anyone living with HIV who has an undetectable viral load passing the virus on to a sexual partner is scientifically equivalent to zero, researchers confirmed at the 22nd International AIDS Conference (AIDS 2018) in Amsterdam today.
Final results from the PARTNER study were presented this morning at a press conference. Results originally announced in 2014 from the first phase, PARTNER 1, already indicated that 'Undetectable = Untransmittable' (U=U). However, the statistical certainty of this result was not quite as convincing in the case of gay men, or for anal sex, as it was for vaginal sex.
Results from PARTNER 2, the second phase, which only recruited gay couples, were presented today. The results indicate, in the words of the researchers, "A precise rate of within-couple transmission of zero" for gay men as well as for heterosexuals.
The PARTNER study recruited HIV serodiscordant couples (one partner living with HIV, one partner HIV negative) in 14 European countries. The study found no transmissions between gay couples where the partner living with HIV had a viral load under 200 copies/ml – even though there were nearly 77,000 acts of condomless sex between them.
PARTNER 2 tells us that U=U holds just as strongly for gay men (and for anal sex) as for heterosexuals.