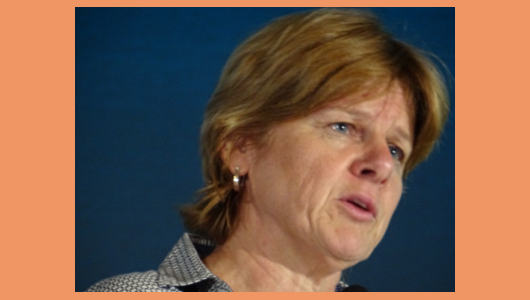 Lynn Morris at HIVR4P 2018. Photo by Gus Cairns.
The HIV Research for Prevention conference (HIVR4P 2018) was dominated by studies of one type of molecule – broadly neutralising antibodies (bNAbs). These complex molecules, which develop in some people with HIV after years of infection, are natural entry inhibitors, stopping the virus from attaching to and infecting cells. They target highly conserved parts of the virus – parts of its proteins that are important to its functioning and which it finds difficult to alter.
HIVR4P heard about a large number of studies of bNAbs. They can be infused 'passively', i.e. made outside the body and given in drips as long-lasting drugs. The reason researchers are interested in bNAbs for HIV is not only because they could treat virus resistant to other kinds of drugs – which they could. Neither is it simply because a single infusion of antibodies can last weeks in the body – though it can, and bNAbs are therefore of interest as a kind of new-generation pre-exposure prophylaxis (PrEP).
It is also because of the way they alert other parts of the immune system, with an effect that can be maintained for long after they have disappeared from the body. Most exciting is the possibility that – since they arise naturally in response to infection – a finely tuned vaccine could induce people to make their own bNAbs. In theory a bNAb-stimulating vaccine could prevent HIV infection altogether.
The prevention potential of bNAbs is being tested in the large AMP (Antibody-Mediated Protection) studies, with results anticipated by late 2020. Participants are receiving a bNAb called VRC01 or a placebo. It is unlikely that that AMP will be the last study of its type: further studies are likely to test combinations of bNAbs.